Packaging Expertise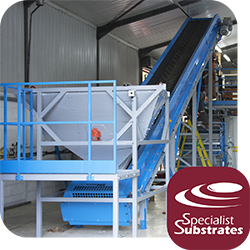 Products, technical expertise and artwork all brought together in customer focused design led packaging.
Providing value, consistent quality and volume fulfilment, our retail and project packaging is facilitated by state-of-the-art "form fill and seal" automatic packers.
For Retail: Ergonomically designed, attention grabbing, gusseted pack allows for maximum shelf stacking density and upright customer facing presentation.
Unambiguous "Substrates" branding and high definition digital printing attests to the quality of the product, whilst the high strength "Grab Bag" with product reveal and carry handle allow for ease of customer selection and uplift.
For Projects: Tough, securely sealed packaging, stacked on pallets and stretch wrapped for safety and protection. Delivered nationwide by pallet couriers for commercial aquarium attractions and waterparks.
Beach 49 Black Sand
The sourcing and technical properties of Specialist Substrates' products have been extensively researched, take for example our Beach 49 Black Sand.
Naturally many of the beaches fringing Pacific Islands are white due to the accumulation of coral sand, however, the stunningly beautiful "Beach 49" is composed of sparkling rounded grains of volcanic lava rock.
We just love black sand beaches the world over and have adopted Beach 49 as the name for our natural black sand. And the name? Simply the beach is located off the main highway at milepost 49 on the main Island of Hawaii.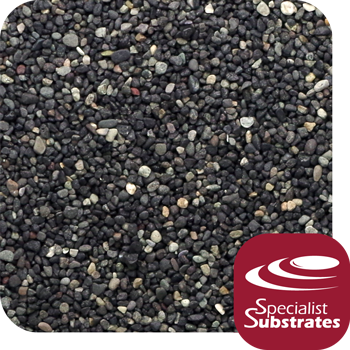 View Product
Who are Specialist Substrates?
Faces behind the Substrates:
Specialist Substrates is the third major natural materials undertaking developed by the husband and wife geological team of Steve and Steph Le Chevalier.
Chronology:
1999

Specialist Aggregates formed as a sole trader business by Steve.

2003

Steph joins Steve in the newly incorporated Specialist Aggregates Ltd

2012

Business consolidated into custom built facility in Rugeley, Staffordshire

2014

Marine Arts joins Specialist Aggregates and quickly becomes the largest supplier of recycled sea shells in the UK.

2019

Launch of Specialist Substrates.
Stephanie Le Chevalier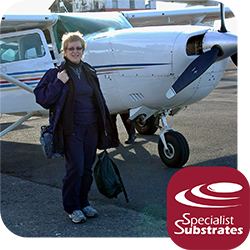 From the North East of England, Steph was educated at the University of Cambridge where she graduated with a Masters Degree in Earth Sciences and Mineralogy.
The quiet one of the Steve and Steph partnership, married to Steve for over forty years and spending much time in the intervening years accompanying him to geological sites both nationally and internationally.
Favourite locations include the rounded pea gravel beaches and golden cliffs of the UK's Jurassic Coast, to the zoned metamorphic rocks on the Isle of Sark to the lava deserts and present day eruptions in the interior of Iceland.
Steph works full time at Specialist Aggregates offering her wealth of experience to the day to day operation and working alongside Steve with the sourcing and development of new products.
Sanity is maintained by running a mini baking production line for their six children and two grandchildren
Steve Le Chevalier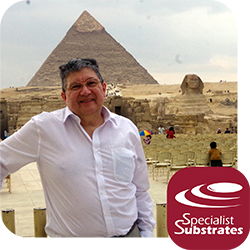 Brought up in Devon where the sea cliffs and moorland became his geological playground before graduating with an Honours Degree in Mining Geology at The Royal School of Mines, Imperial College.
Met Steph whilst working for the Geological Survey as summer vacation work experience mapping the occurrence of Tungsten in Cumbria. Together they have explored rocks and minerals from the basement complex of Northern Sweden to the Cainozoic of Egypt.
Most awe inspiring geological location? Putting a finger on the boundary between two layers of rock on the north side of Loch Assynt in Scotland and being able to touch the time gap between the two different strata, thought to be in the order of one thousand five hundred million years.
Steve works within Specialist Aggregates to establish sources and develop opportunities across a broad range of products and to interpret technical information for their inclusion onto the company web site.